MIPEX is a useful resource for measuring the relative success of EU+3 nations in integrating migrants.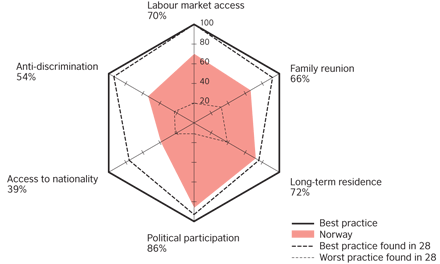 MIPEX measures policies to integrate migrants in 25 EU Member States and three non-EU countries. It uses over 140 policy indicators to create a rich, multi-dimensional picture of migrants' opportunities to participate in European societies.
(from the website...)
MIPEX uses the term 'migrants' to refers to Third Country Nationals legally residing in an EU Member State. Unless stated, it does not refer to refugees or asylum seekers, irregular migrants, EU citizens exercising their free movement rights or EU citizens with immigrant origins.
MIPEX covers six policy areas which shape a migrant's journey to full citizenship:
- Labour market access
- Family reunion
- Long-term residence
- Political participation
- Access to nationality
- Anti-discrimination
Best practice for each policy indicator is set at the highest European standard, drawn from Council of Europe Conventions or European Community Directives. Where these are only minimum standards, European-wide policy recommendations are used. Since policies are measured against the same standards across all Member States, MIPEX is a 'benchmarking' tool to compare performance.